so Thursday last week i bought my devil from R2Hobbies paid for Thursday with ems and was sent the same day, to my surprise it got here today! was expecting tomorrow but hey no complaints here!
i bought the pre built version as i not that good at building cars and for the extra $10 i figured why not.
cars built pretty well apart from a little surface rust on the cvd shafts...not happy about that.
so Ive put it all together with my 9t ezrun combo for the time being till i get a sensored combo.
now i have a few questions, the car feels a little tight? like when i run the car give it a little throttle then let the gas off the rear wheels lock up, is that right? might be cos im going from shaft to belt but it still slides ok!
next is the front toe, should it be out as far as it is? (refer to pics) just curious, any tips would be great!
just had a closer look over the car and it seems like theres a bit of surface rust on my cvds/drive shafts and a few screws aswell just emailed r2 about this!
cheers drifter.
out of the box: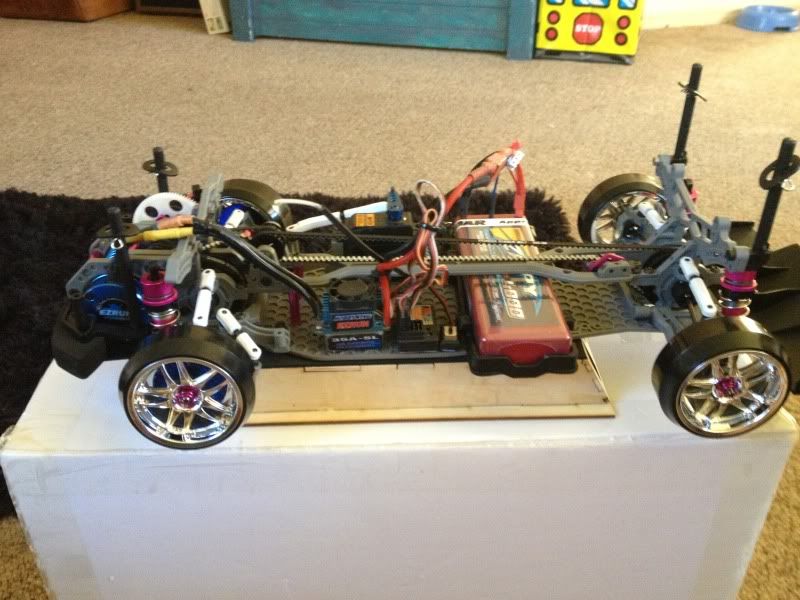 toe problems, and not my foot lol:
any tips im all ears, im trying to find a problem..when on throttle the car drives pretty good but as soon as i let off the throttle the cars rear wheels instantly lock up....weird.. maybe belts too tight? or could it just be from being FM? car has one way front and locked rear.