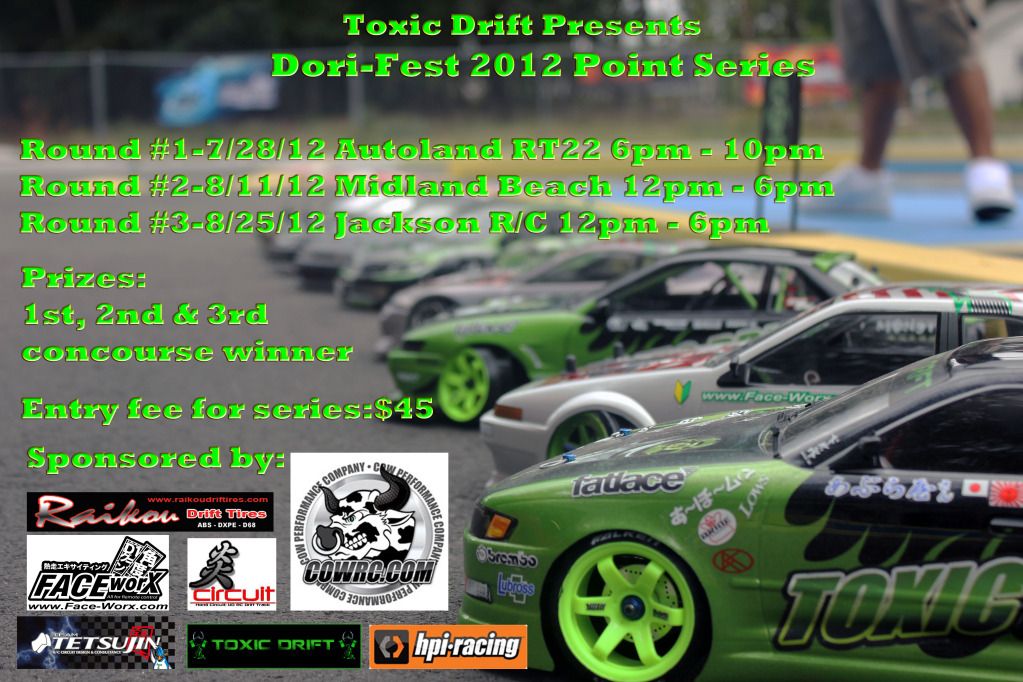 When: 7/28/12
Time: 6:00pm - 11:00pm
Where: Autoland Rt22 Springfield, NJ
Bring tables chairs and power strips
Drift what you bring
Cost: $15.00
...
Bring your led's, under glow kits as this will run into the late night and will look awesome while you do battle on the track.
Prizes for 1St place / best body
•Sign in for the competion from 5:30 6:30pm. (Note: after 6:30pm registration will be closed so please arrive on time).
• 6:00 - 6:45 practice
• 6:45 – drivers meeting
• 7:00 - 8:00 qualifying
• 8:30 - bracket elimination starts
The event will be a single elimination bracket standard drift rules apply. Their will be a handout with the rules at the event for all the drivers to review and we will have a brief drivers meeting before we start. Points will be awarde to all drivers so everyone has a chance to jump up on the charts.
Points breakdown
1st - 10pts
2nd - 8pts
3rd - 6pts
4th - 4pts
5th - 2pts
1pt to every driver after that
For more information:
http://www.facebook.com/pages/Toxic-Dri ... 497090430/
Good luck to all the particpants!!!